Hello!
Some days ago I bought this antoninianus from the "Tresor d'Horath (Allemagne - 1964):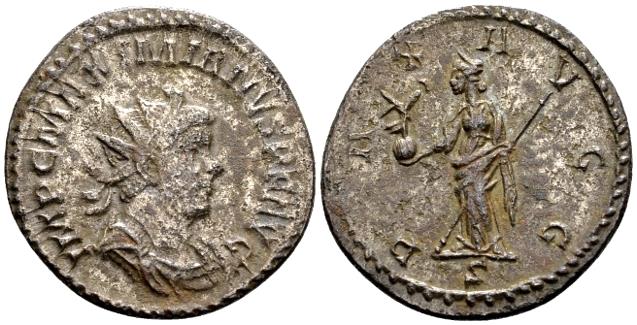 MAXIMIANUS
D\ IMP C MAXIMIANVS PF AVG
R\ PAX AVGG, /S - Pax standing l. holding Victory and sceptre
Mint: Lugdunum; AE Antoninianus with AR surf.; 22 mm; 3,61 gr
RIC - ; Bastien 276 (5 examples)
Provenance:
Ex eBay shop; Ex Gert Boersema, Ex coll. Eberhard Link, Ex. tresor d'Horath (Allemagne, 1964)
I would ask you some info about the coin and the context.
I found only this reference about the hoard: "H. Cuppers, « Trésor d'Horath, 1964 (canton de Bernkastel) », Archäologische Funde im Landkreis Bernkastel, Zeltigen, Bernkastel-Kues, Lankreis Bernkastel, 1966, p. 99 et pl. 51" but I'm not able to find the book
I have not the Bastien book abut Lyon mint so I'm not sure about the catalogue reference... could someone help me?
Many thanks!!!